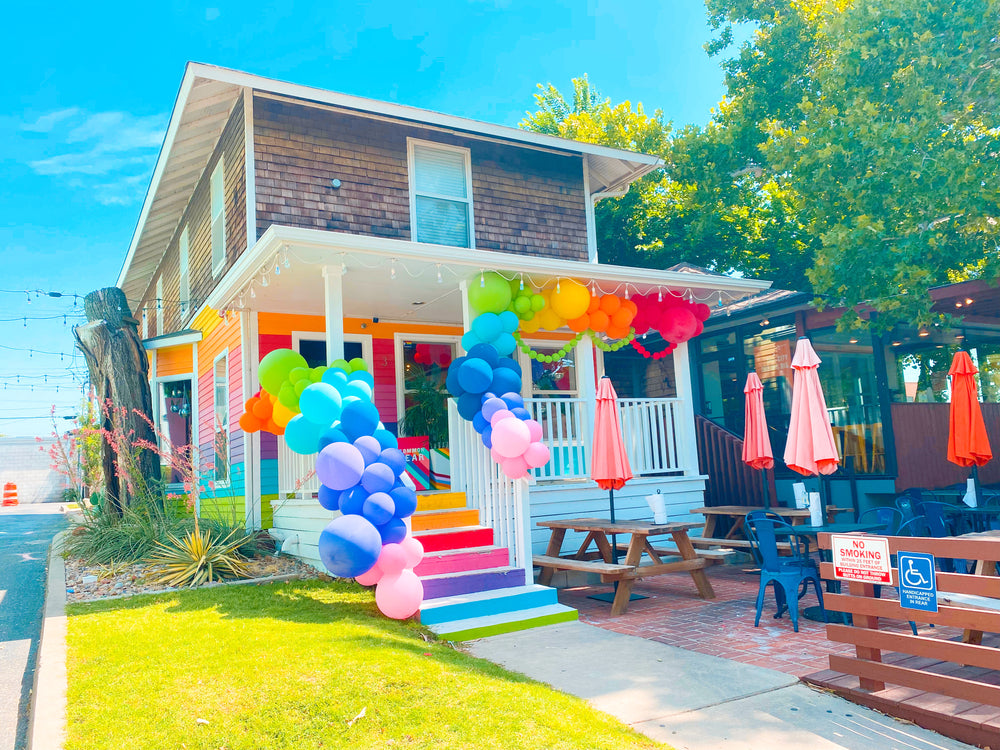 Always inclusive and unique.
As a queer women-owned business, we intentionally curate our Common Dear retail space with women-owned, 2SLGBTQIA+-owned and BIPOC-owned brands that care about empowerment and making the world a better, more equal place for everyone.
Explore Our 9th Street Shops
Common Dear

A cheerful, rainbow-filled feminist and self-empowerment gift shop. Located in a rainbow 2-story house at 3 NW 9th Street, OKC 73102.

Johnny and June

A fun, eclectic and immersive gift shop with something for everyone. Located in the back of the gravel parking lot at 12 NW 9th Street, OKC 73102.
Free local pickup

Pick your order up at your convenience anytime during normal business hours.

Free shipping over $75

$8 shipping or free shipping for all purchases over $75.

Buy Now, Pay Later

Use Shop Pay to make easy installments.

Gift Cards

We offer physical and online gift cards for simple gift-giving.
Tailor M.
Fun and inclusive place to shop for all. The candles sold are made locally and smell fantastic. There are stickers, mugs, art, pins and so much more all with funny quotes and inclusive language.
Kyle S.
Great place! Need a gift for a special occasion? They've got you covered. Mugs, cards, awesome socks (not to be confused with awesome sauce), and so many other wonderful items. The owners are the coolest couple, so for anyone who digs family run businesses, this is your place. If you like cool stuff sold by cool people, check out Common Dear! It's cool.
Amy B.
I can't believe I haven't reviewed Common Dear yet! This absolutely joyful shop is the best place to go for gifts! The kaleidoscope of rainbow that greets you is the perfect setting for shopping the extensive offering of stickers, candles, cards, accessories, pottery and much more! Kelli and Jessi are two of the most amazing people you could hope to spend your time and money with. I personally love the inclusivity of their products and love taking my daughters to a store that celebrates feminism and LGBTQIA+. We love our city's little rainbow shop!
Danna R.
Cute little shop that sells OK Collective Candles, bath bombs, socks, pillows etc! Great little Birthday surprise!
Uyen Tran P.
Stumbled upon this gem of a store when visiting OKC over a long weekend. The inside is bright, happy, and welcoming. The staff are so friendly. Store items are inclusive and creative. I especially loved the wall of stickers with various words of encouragement.
Cara G.
There is a warmth to this precious shop. Even curbside, every interaction with the owner has been a delight. Their selection of goodies is top notch- Common Dear is my go to for birthdays, Christmas, and Just Because gifts. ❤️🧡💛💚💙💜
Rachael G.
Love this store so much! Awesome items and I can always find gifts for friends or a treat for myself. They also make shopping online a breeze with an easy to navigate website full of fun items.
The shop atmosphere is fun and inclusive. Not to mention the owners are so kind, hardworking, and inclusive of all people. They are exactly the type of people that make a community welcoming and beautiful.
Lora H.
Common Dear is a fantastic store! I have been shopping here nearly exclusively for birthday presents for my friends, and everything has been a huge hit.
Sarah D.
Incredible experience! I had put off ordering something online until closer to the time I needed it, and completely forgot until the day of. I directly messaged Kelli on Instagram (her and her wife are the owners, and also own OKCollective) and she responded right away, letting me know she would fill my order ASAP and leave it in a convenient spot for me to pick up, since she was luckily going in early to sew masks! I accidentally selected "shipping" instead of "pickup" and she refunded that without me even asking her to. This place is full of cute, unique finds, and you are bound to find a gift for anyone here. Love having a boutique like this in Okc and very grateful for their incredible customer service!
Katie K.
This is the cutest shop ever. The owners are the sweetest and most helpful people ever. They have cute gifts and shirts and home goods. Their masks are super cute.
Brittany D.
One of the highlights of 9th street! You always know you're going to get a smile, most likely a hug, and maybe a challenge to a dance off. This is the perfect gift shop to grab gifts for pretty much anyone! I love getting notepads and notebooks for work. So glad that we can find such cute stuff in Oklahoma City!
Casey W.
I love stopping in at Common Dear, it's warm and inviting and you're bound to find your new favorite mug, pin, or vintage blazer! Highly recommend checking this place out!
Betsy B.
Love this little store in automobile alley! The things there are carefully curated and chosen with love. They make great gifts for friends, family, or yourself. You must stop in soon!
Jillian T.
I love Common Dear! They have an amazing and unique selection for gifts and home!
Emily J.
If you need a gift for a friend (or yourself), go to Common Dear! They have something for everyone and the store will have you leaving with more happiness in your life.
Jeremy P.
I really loved this place. Good atmosphere.